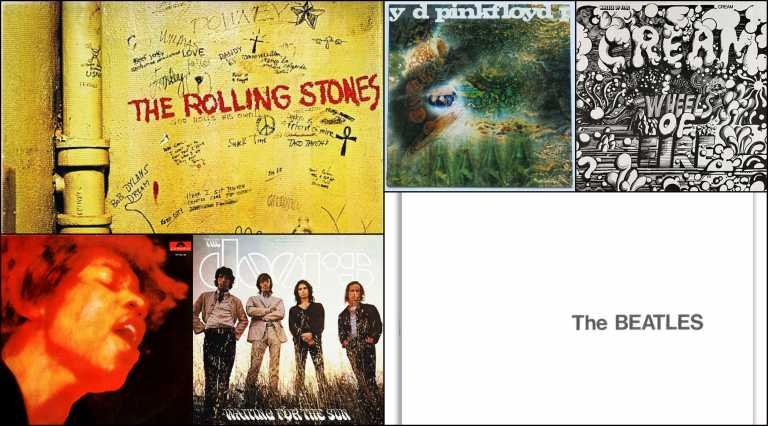 En este artículo te dejamos con una lista de 10 álbumes que vieron la luz en 1968.
El tiempo pasa y con esto algunas obras de rock reafirman su etiqueta de clásicos.
The Beatles, Rolling Stones, The Doors, Pink Floyd y otras bandas sacaron hace 50 años algunos de estos álbumes que cumplirán, ni más ni menos, que cinco décadas de vida.
1.- The Beatles – "The Beatles" ("Álbum blanco")
Lennon, McCartney, Harrison y Starr estuvieron encerrados en el estudio del 30 de mayo al 14 de octubre.
Fueron sesiones llenas de tensión, pero ricas en resultados, al lograr un disco redondo al que llamaron simplemente "The Beatles".
Es un álbum doble en el que se aborda el rock, el blues, el folk y sonidos pesados, dando muestra de la calidad musicales del "cuarteto de Liverpool".
Es considerado como uno de los mejores discos de la historia del rock.
Disco 1
Cara 1
1. "Back in the U.S.S.R."
2. "Dear Prudence"
3. "Glass Onion"
4. "Ob-La-Di, Ob-La-Da"
5. "Wild Honey Pie"
6. "The Continuing Story of Bungalow Bill"
7. "While My Guitar Gently Weeps"
8. "Happiness is a Warm Gun"
Cara 2
1. "Martha My Dear"
2. "I'm So Tired"
3. "Blackbird"
4. "Piggies"
5. "Rocky Raccoon"
6. "Don't Pass Me By"
7. "Why Don't We Do It in the Road?"
8. "I Will"
9. "Julia"
Disco 2
Cara 3
1. "Birthday"
2. "Yer Blues"
3. "Mother Nature's Son"
4. "Everybody's Got Something to Hide Except Me and My Monkey"
5. "Sexy Sadie"
6. "Helter Skelter"
7. "Long, Long, Long"
Cara 4
1. "Revolution 1"
2. "Honey Pie"
3. "Savoy Truffle"
4. "Cry Baby Cry"
5. "Revolution 9"
6. "Good Night"
2.- The Rolling Stones – "Beggars Banquet"
El 6 de diciembre de 1968 salió al mercado un disco atrevido llamado "Beggars Banquet", obra de los Rolling Stones.
En este disco, "Sus Satánicas Majestades" se adentraron en un sonido sucio, continuando con el blues como bandera.
Lista de canciones
1. "Sympathy for the Devil"
2. "No Expectations"
3. "Dear Doctor"
4. "Parachute Woman"
5. "Jigsaw Puzzle"
6. "Street Fighting Man"
7. "Prodigal Son"
8. "Stray Cat Blues"
9. "Factory Girl"
10. "Salt of the Earth"
3.- Pink Floyd – "A Saucerful of Secrets"
Este disco no es precisamente uno de los mejores de Pink Floyd, pero es sumamente trascendente por diversos aspectos.
Por un lado marca el ingreso de David Gilmour a Pink Floyd y la última participación de Syd Barrett en el grupo, la cual estuvo muy limitada en esta placa, por el lamentable estado mental que presentaba en esas fechas.
El disco se publicó en junio de 1968.
Lista de canciones
1. "Let There Be More Light"
2. "Remember a Day"
3. "Set the Controls for the Heart of the Sun"
4. "Corporal Clegg"
5. "A Saucerful of Secrets"
6. "See-Saw"
7. "Jugband Blues"
4.- Jimi Hendrix Experience – "Electric Ladyland"
Este es un disco doble majestuoso, la tercera y última obra de Jimi Hendrix Experience, trío conformado por el virtuoso guitarrista, Mitch Mitchel y Noel Redding.
En esta obra Hendrix se acerca al rock progresivo, siempre manteniéndose dentro del blues con atmósferas piscodélicas.
"Electric Ladyland" se publicó el 25 de octubre, teniendo un trabajo de grabación de prácticamente un año, lo cual se debió al perfeccionismo de Hendrix (se llegaron a grabar hasta 50 tomas de una canción) y a la constante interrupción en el estudio por las parrandas de Jimi y sus amigos.
Lista de canciones
Disco 1
1.- "…And the Gods Made Love"
2.- "Have You Ever Been (To Electric Ladyland)"
3.- "Crosstown Traffic"
4.- "Voodoo Chile"
5.- "Little Miss Strange"
6.- "Long Hot Summer Night"
7.- "Come On (Part 1)"
8.- "Gypsy Eyes"
9.- "Burning of the Midnight Lamp"
Disco 2
10.- "Rainy Day, Dream Away"
11.- "1983… (A Merman I Should Turn To Be)"
12.- "Moon, Turn The Tides…Gently Gently Away"
13.- "Still Raining, Still Dreaming"
14.- "House Burning Down"
15.- "All Along The Watchtower"
16.- "Voodoo Child (Slight Return)"
5.- The Doors – "Wainting for the sun"
La psicodelia de The Doors se presentó por tercera vez con Waiting for the sun, álbum en el que la banda deja de lado la oscuridad profunda que les acompañó en sus primeras dos obras, para acercarse a un sonido más limpio.
Este disco se publico el 3 de julio de 1968, tras 4 meses de grabación llenos de excesos y tensiones internas.
Destacan "Unknown soldier", "Love Street", "Spanish caravan" y "Five to one".
Lista de canciones
1. "Hello, I Love You"
2. "Love Street"
3. "Not to Touch the Earth"
4. "Summer's Almost Gone"
5. "Wintertime Love"
6. "The Unknown Soldier"
7. "Spanish Caravan"
8. "My Wild Love"
9. "We Could Be So Good Together"
10. "Yes, The River Knows"
11. "Five to One"
6.- Cream – "Wheels of Fire"
Una verdadera joya del rock, se trata del tercer disco del power trío conformado por Ginger Baker, Jack Bruce y Eric Clapton.
En este álbum doble se plasma la calidad de la Crema tanto en estudio como en directo.
Lista de canciones
Disco en estudio
1.- "White Room"
2.- "Sitting on Top of the World"
3.- "Passing the Time"
4.- "As You Said"
5.- "Pressed Rat and Warthog"
6.- "Politician"
7.- "Those Were the Days"
8.- "Born Under a Bad Sign"
9.- "Deserted Cities of the Heart"
10.- "Anyone for Tennis"
Disco en vivo desde Fillmore
1.- "Crossroads"
2.- "Spoonful"
3.- "Traintime"
4.- "Toad"
7.- Big Brother and the Holding Company (con Janis Joplin)- "Cheap Thrills"
Janis Jopin no inició su carrera como cantante siendo solista, lo inició a través de otros grupos en los cuales logró ganar experiencia, reputación y fama, ese es el caso de Big Brother and the Holding Company.
Con esta banda logró crecer enormemente y su último trabajo con ellos fue en "Cheap Thrills" uno de los mejores discos de los 60's.
En este álbum se incluye el hit "Piece of my heart".
Lista de canciones
1. "Combination of the Two"
2. "I Need a Man to Love"
3. "Summertime"
4. "Piece of My Heart"
6. "Turtle Blues"
7. "Oh, Sweet Mary"
8. "Ball and Chain"
8.- Creedence Clearwater Revival – "Creedence Clearwater Revival"
Este es el álbum debut de CCR, en el que queda de manifiesto que eran un grupo sui generis que estableció un estilo propio, el famoso sonido "Bayou".
Una propuesta honesta, en la que el blues y los aires campiranos se funden a la perfección, como preámbulo a lo que vendría en los siguientes discos de la banda.
Lista de canciones
1.- "I Put a Spell on You"
2.- "The Working Man"
3.- "Susie Q"
4.- "Ninety-Nine and a Half
5.- "Get Down Woman"
6.- "Porterville"
7.- "Gloomy"
8.- Walk on the Water"
9.- Simon and Garfunkel – "Bookends"
¡El folk sesentero en su máxima expresión! Uno de los mejores discos creados por el dueto de Paul Simon y Art Garfunkel.
En esta placa se incluye una de las mejores canciones de la historia del rock, se trata de "Mrs. Robinson", tema insignia de la película "El Graduado".
Lista de canciones
1. "Bookends Theme"
2. "Save the Life of My Child"
3. "America"
4. "Overs"
5. "Voices of the Old People"
6. "Old Friends"
7. "Bookends Theme"
8. "Fakin' It"
9. "Punky's Dilemma"
10. "Mrs. Robinson"
11. "A Hazy Shade of Winter"
12. "At the Zoo"
10.- Deep Purple – "Shades of Deep Purple"
El álbum debut de Deep Purple se publicó en julio de 1968 en Estados Unidos y poco después en el Reino Unido.
En ese entonces los británicos estaban aún en búsqueda de una identidad musical, por lo que se embarcaron en una aventura que los llevó a los terrenos de la psicodelia.
Aún no llegaban al terreno del rock duro, pero ya desde este primer disco se percibe que la banda tiene mucho potencial, el cual explotaría apenas unos años después.
Lista de canciones
1. "And the Address"
2. "Hush"
3. "One More Rainy Day"
4. "Prelude: Happiness / I'm So Glad"
5. "Mandrake Root"
6. "Help!"
7. "Love Help Me"
8. "Hey Joe"
10 Discos que cumplirán 50 años en 2018